This International Women's Day, Kunst Apotheke Salon is focusing on the body as viewed by female photographers and filmmakers. How far have we come since the feminist art and discourse of 1970s? At a glance, women may seem to have the upper hand. But with traditional notions of male identity under threat (well illustrated by Tsai Min Liang's recent film 天邊一朵雲 aka The Wayward Cloud), how can we move beyond the discourse of "a battle of the sexes"?
Forty years on, has the post-feminist debate really freed women to enjoy their own sexuality, or has it made the commodification of women's bodies acceptable once more?Does the increasing treatment of men's bodies as objects of desire in fashion, advertising and the media make them victims of the same degrading treatment women have struggled to overcome? Do these depictions lack the nuanced complexity with which imagery of the female form has been explored, and if so how does this affect the way men feel about their own bodies?
Kunst Apotheke Salon Session 13 - Will Feminist Winners Be Defeated by Their Own Victories?
08.03.2011
20:00 - 23:00
Limbus Europae
corner Kienitzer Strasse / Weisestrasse
U-Bahn: U8 Boddinstrasse
BERLIN NEUKÖLLN
www.limbus-europae.de


Bronwen Parker-Rhodes and Giovanna Schulte-Ontrop will each present a body of portraiture that raises questions about how we view sex and the human body.
Bronwen Parker-Rhodes - Photographer/filmmaker - London
bronfilms.com
Since graduating from Slade School of Fine Art in 2006 with a BA (1st Class Hons), Bronwen has directed two series of 3 Minute Wonders for Channel 4, made films for Vivienne Westwood, pop star Rihanna, Current TV and Spine TV. Her films and photography have been exhibited in group and solo exhibitions worldwide. Bronwen's first book, At Home, has just been published by Oodee, one of four titles in the series POV Female. At Home offers a glimpse behind the bedroom doors of girls who strip, revealing aspects of their personalities away from the stage or the communal dressing room. Surrounded by the clutter of their lives – from sentimental knick-knacks to the costumes of their trade – these are of sexy, confident women enjoying their exhibitionism on their own terms.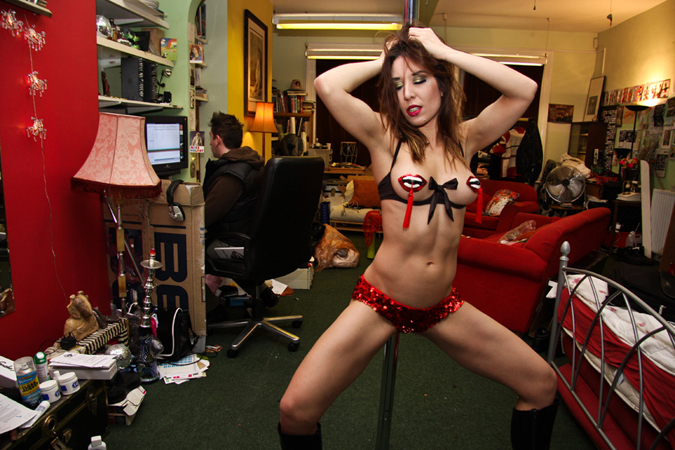 Chiqui at Home, 2010
Giovanna Schulte-Ontrop - photographer - Berlin
Schulte-Ontrop has turned her camera onto 'ordinary' men – naked, unadorned and quietly confident in their bodies – raising questions about male vulnerability and the power of the female gaze. Tired of being constantly confronted with male nude images that are constructed with predictable marketing aesthetics, macho propaganda, and even romanticised nerdyness, Giovanna's body of work, Entspiegelung, presents a tender and sensual view of masculinity.

Entspiegelung, 2010