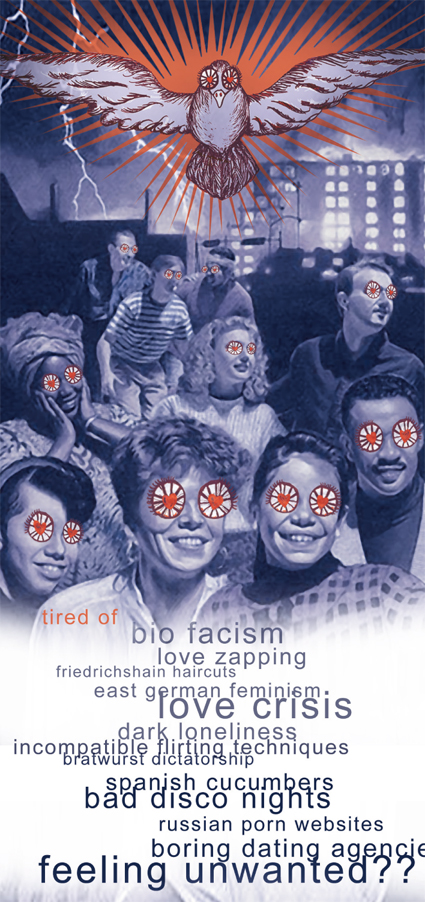 Love 1,2,3!
Speed Dating / Interactive Performance / Party / Djs / Tatoos
30.06.2011
Love Service 1: 20:00
Love Service 2: 22:00
HBC
Karl-Liebknecht-Straße 9, 10178 Berlin
U / S Bahn: Alexanderplatz
Entrance fee: 3 euros
Online Reservation is highly recommended, to reserve, click here
Are you lonely? Sometimes desperate or feeling unwanted?
Love 1,2,3! is for YOU!
Better than a lousy disco night, better than a boring dating agency, better than any Russian porn websites, the fantastic Love 1,2,3! offers you the opportunity to meet at least 7 unique individuals in one evening.
With all the crisis around the world, we identified there is a severe love crisis in Berlin. Possible reasons might be: cultural differences, precarious life styles, mobility, cosmopolitan love zapping, East German feminism, bio fascism, tasteless cocktails, Friedrichshain haircuts, incompatible flirting techniques...
To highlight these problems and possibly find some answers, we created a love laboratory - Church of Love. We are not a conventional dating agency, our goal is to help you enjoy the ultimate love experience. Operated by 4 dedicated Love Squads (Reverend Jean Jacques, Sister Happy Star, Sister Hiroshima and Sister Alice), We provide sex-love-rockn'roll strategies to rescue people from the dark loneliness simply because "L" is for LOVERS, not for losers!
Church of Love welcomes everyone - Straight, Gay, undecided, young, old, black, white, or latte. The door is open and we promise, we will love you all!
To experience Love 1,2,3! Reservation is highly recommended, to reserve your place, click here.
Love1,2,3! is initiated by Church of Love, co-produced by SideBySide Studio, Node Center for Curatorial Studies, and HBC.