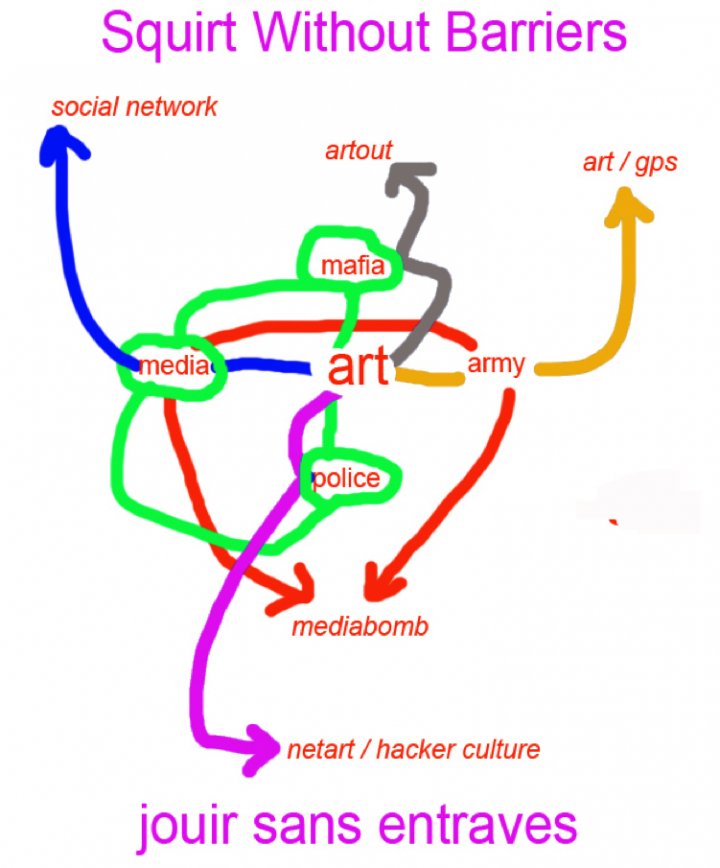 Jouir sans entraves Squirt without Barriers is written and performed together with Pierre Bongiovanni at Politique 0, Espace Niemeyer, Paris on 01.10. 2010.
Jouir Sans Entraves
Jouir sans entraves va "décompresser" les liens qui relient les points cardinaux du contrôle social et politique exercé aujourd'hui sur tous et chacun. La police, la mafia, les militaires et les médias sont des entités cohérentes avec des compétences complémentaires, en particulier dans les domaines de la recherche, de l'innovation et de l'utilisation des technologies de la communication électronique. En utilisant des exemples concrets, réels ou fictifs, nous montrerons comment les artistes et les opérateurs culturels d'aujourd'hui sont devenus les puissants et complaisants complices des nouvelles forment de servitudes et de domination dont le capitalisme culturel a besoin pour jouir sans entraves.
Jouir sans entraves sera présenté en anglais et en français.
Squirt Without Barriers
Squirt Without Barriers will unpack the links that connect the cardinal points of social and political control exerted now on each and everyone. The police, the mafia, the military, and the media are consistent entities with complementary skills, particularly in the areas of research, innovation and use of electronic communication technologies. Further, by using concrete examples, real or fictional, we demonstrate how artists and cultural operators today have become new forms of complacent and complicit servitude through the mighty deployment of cultural capitalism.
Squirt Without Barriers is performed in both English and French