Very warm greetings from Brazil, Argentina, Uruguay, Berlin, and Marseille,
Many people asked me about my impressions of South America for the past 2 month, in short, 'Paradoxes, Gambiarra, and Vast.'
To give few examples, Sao Paulo has Prestes Maia, the largest squatted high-rise building in South America. Meanwhile, the city also faces the highest helicopter traffic control in the world. One can also find a Disney version of contemporary art and botanical center in Brazil at Inhotim.
Gambiarra means make do with everyday creativity, to solve problems with limited or no resources. Check out the Eloisa Cartonera community bookmaking project in Buenos Aires. Also Cao Guimarãe's INMERSIÓN SENSORIA exhibition at Subte, Montevideo.
There are many other contacts and networks such as Continente, BijaRi, and Vivo Arte who have generously shared their knowledge and resources, these heart warming exchanges not only opened my mind but definitely my heart. I am happy to share these contacts with cultural workers who want to expand their projects in South America.
Content:
Creative Incubator Workshop, Rio de Janiero
Between Windows Open Call, Berlin
d'abord les forêts… / opus 2, La Maison de Laurentine, July – October 2011
Breath in Crisis Time Book Project, September, 2011
Kunst Apotheke Salon Session13 – Porno for Women, Berlin, March 2011
Potlatch Professional Meetings, A.M.I., Marseille, 16-25 March, 2011
Creative Incubator Workshop, Rio de Janiero
Creative Incubator workshop was first conducted last November in Rio de Janiero, within 2 weeks, we launched Access online platform for different local community projects. The platform is developed with SPIP open source software by Arscenic.tv and SideBySide Studio, it works best with Safari or Firefox.
There are 3 important features about this platform:
Community platform - it has the capacity to host hundreds or thousands of users.
User friendly interface for multi-media publications – instead of having separate accounts with YouTube, Vimeo, MySpace, or Flicker, users can publish video, audio, image, and text all in one channel without worrying about the file format.
User = content provider = content owner – each user has full autonomy with the copyright, see creative common features on the platform. 
Worth noting about the workshop exercise, Secret Place, where participants imagined crisis narrative in relation to a real physical space in Rio.  One group proposed the possibility of revolution in different favelas, and in less than 1 week, the war between the police and Nacro dealers broke out and deserted the streets in Rio. When I watched this news on tv, it's like I already knew about it 1 week in advance...
We posted participants' feedback and more workshop information here, http://access.arscenic.tv/media/creative-incubator-workshop/
This first experimentation opened many possibilities for partner institutions and participants, we are excited to share the technology and strategies for international artistic and social collectives for thinking and working together.
Special thanks to A.M.I., Alliance Française, Oï Futoro, Oï Kabum, Vincent Deblock, Darine Ameyed, Anne Roquigny, Baruch Gottlieb, Kyd Campbell, Pierre Bongiovanni, Quentin Drouet, Maria ptqk, Ela Kagel for working together on this workshop.
Between Windows Open Call, Berlin
Jose Luis Borges talked about a red fish swims backwards so the water will not get into its eyes in El libro de los seres imaginarios (The Book of Imaginary Beings), this red fish pops up whenever I am confronted with differences in thinking.
Between Windows attempts to initiate dialogues about and around Latin America through time-based media to see if we can swim backwards together. This 3 day program will be scheduled in the summer 2011 in Berlin. Videos, book-objects, lectures, and other artistic experiments will be accepted by visual artists born or based in Latin America.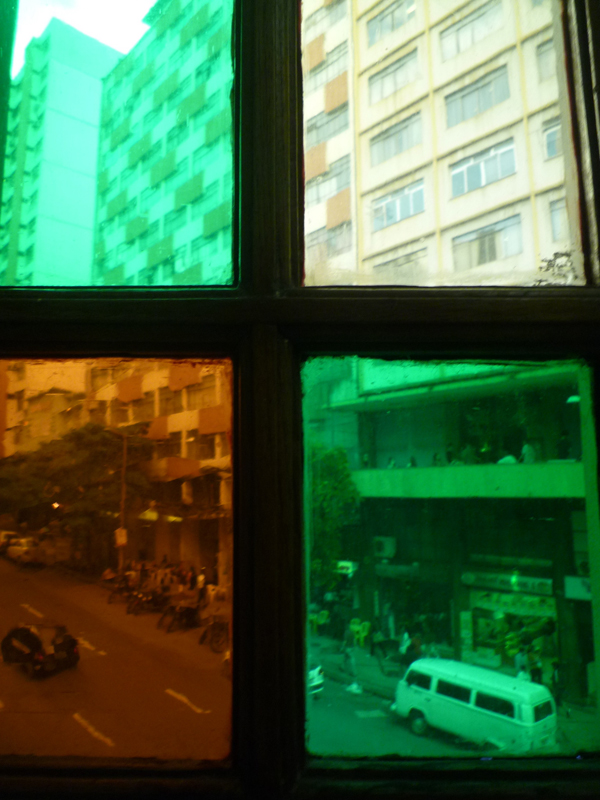 d'abord les forêts… / opus 2, La Maison de Laurentine, July – October 2011
Concerning the relationship and territory between humanity, animalism, domesticity, monstrosity, and normality. This manifestation will feature over 120 artists from 20 nationalities and take place around Parc National des Forêts de Feuillus, France.
SideBySide Studio is a curating special program focusing on Taiwanese and Latin American Artists for Le Parcours artistique des vallées de l'Aube et de l'Aujon and L'Exposition Invisible program. For more information, visit La Maison de Laurentine
Breath in Crisis Time Book Project
Wikileaks and recent revolutions in Tunisia and Egypt tell us a clear message - the world has already changed and it continues to change fast. The word 'crisis' means danger and opportunity at the same time. Together with 5 other international editors, La Maison de Laurentine and SideBySide Studio are preparing a series of book dealing with strategies and creativities in crisis time. The first edition will launch in September during ISEA 2011 in Istanbul. We welcome worldwide inputs.
Kunst Apotheke Salon Session 13 – Porno for Women, March 2011
Next Kunst Apotheke Salon will take place during the International Woman's week in March. Together with Ruby Russell, editor Teller Magazine, we want to investigate 'Prono for Women', stay tuned for more details.
"If you have an apple and I have an apple and we each exchange these apples, then you and I will still each have one apple. But if you have an idea and I have an idea and we exchange these ideas, then each of us will have two ideas." - Permanent Food
We also want to expand the curatorial team for Kunst Apotheke Salon in 2011, contact us if you have topics or projects which need medical attention, work in progress also welcome.
Potlatch Professional Meetings, A.M.I., Marseille, 16-25 March, 2011
SideBySide Studio will give public intervention on art, technology, and innovation during Potlatch between 23-25.03.
Knowing Marseille will be the European Cultural Capital in 2013, we look forward to meet different local cultural partners to understand their vision for this project prior 23.03 in Marseille.