This session explores syncretism – the collision or reconciliation of disparate beliefs, systems of thought and forms of expression. Recently, syncretism has been understood as the acceptance of foreign or unorthodox practice such as Candomble and in Diderot's thought, the harmony of eclectic sources. Standing in opposition of binary system, syncretism is the in-between condition of being both or more. Here, ostensible incorporation allows a rich process of mélange, in which associations between symbols, icons, and a variety of techniques and media are assembled.
We query whether syncretism maybe used to describe Jack Burnham's 'System Esthetics' (1986) – the transition from an object-oriented to a systems-oriented culture in which change emanates not from things, but from the way things are done? Additionally, may syncretism be considered as a disjunctive and open form of cultural production, as applicable to Candomble as it is to digital art? In particular, to current Brazilian digital art making?
[DE] Die aktuelle Veranstaltung widmet sich dem Synkretismus – der Kollision bzw. der Übereinstimmung von verschiedenen Glaubensrichtungen, Gedankensystemen und Ausdrucksformen. Der Synkretismus wurde vor kurzen noch als die Akzeptanz von fremden und unorthodoxen Praktiken wie wir sie in der afro-brasilianische Religion Candomble finden oder in Diderots Denkweise als Einklang von verschiedenen Quellen verstanden. Konträr zum binären System, ist der Synkretismus der Zwischenzustand beides zu sein oder mehr. Die Zusammenführung erlaubt eine Mischung, in der Assoziationen innerhalb von Symbolen und Zeichen als auch eine Vielzahl unterschiedlichster Techniken und Medien zusammengebracht werden.
Zusammen mit bekannten Medienkünstlern und Wissenschaftlern Brasiliens gehen wir der Frage nach ob der Synkretismus auch genutzt werden kann um Jack Burnhams "System Esthetics" (1968) zu beschreiben – die Transition einer Objekt basierten zu einer System orientierten Kultur, in der Veränderungen nicht von Dingen ausstrahlen sondern von der Art und Weise wie Dinge gemacht sind. Vielleicht kann Synkretismus auch als eine trennende und offene Art des kulturellen Schaffens verstanden werden, wie Candomble zur Medienkunst? Im Besonderen zur zeitgenössischen brasilianischen Medienkunst?
[PR-BR] Neste encontro exploraremos o sincretismo - a colisão ou reconciliação de crenças, sistemas de pensamento e formas de expressão opostas. Sincretismo vem sendo compreendido recentemente como a aceitação de práticas alheias ou não-ortodoxas, como o Candomblé, segundo o pensamento de Diderot, a harmonia de fontes ecléticas. No espaço de oposição ao sistema binário se encontra a condição intermediária de ser ambos, ou mais ainda. Aqui, a incorporação ostensiva permite um processo de mélange enriquecedor, onde são montadas associações entre símbolos e ícones através de uma variedade de técnicas e meios.
Nos perguntamos se o sincretismo poderia ser usado para descrever o 'System Esthetics' de Jack Burnham (1986) – a transição de uma cultura orientada a objetos para uma cultura orientada a sistemas, na qual a mudança emana não das coisas em si, mas da maneira como as coisas são feitas? Além disso, poderia o sincretismo ser considerado como uma forma de produção cultural aberta e disjuntiva a ser aplicada à arte digital da mesma maneira como o é ao Candomblé? Especialmente no que se refere às práticas atuais de arte digital no Brasil?
Kunst Apotheke Salon Session 15: YES and NO and IT DOESN'T MATTER – Syncretism and Digital Art Making Today
07.09.2012
19h Doors open
19:30 - 22h
O.T. Projectraum
Weichselstr. 55 12045 Berlin
http://otprojectspace.wordpress.com
Special thanks to dance-techtv, live video streaming will be available at www.ustream.tv/channel/dance-techtv
Vanessa Ramos-Velasquez - Interdisciplinary artist and researcher, Winner of Transmediale.11 Vilém Flusser Theory Award Distinction
Digital Anthropophagy and The Anthropophagic Re-Manifesto for the Digital Age, presented as a multimedia lecture-performance, this work comprises a theoretical essay where a new practice of consumption (ingestion, digestion and excretion) involving a technological mediation is proposed as the new paradigm arising from the internetworked society in which anyone can be a colonizer. 500+ years ago the ship was the laptop, carrying people and concepts far and wide. The artist thus invites the audience at the end of the performance to eat her re-manifesto in full ritualistic communion and deposit offerings to Yemanjá inside the boat from which she reads the manifesto as a new Requerimiento.
www.quietrevolution.me/ART_PAPERS.html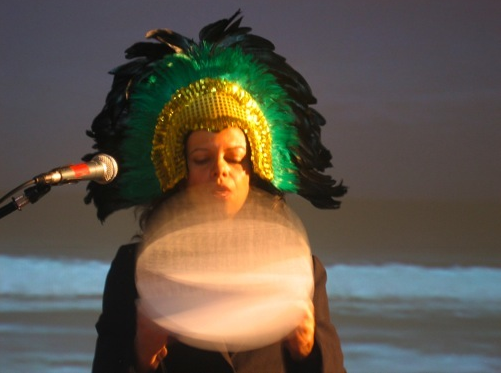 Marcus Bastos – Professor at PUC-SP, Curator for Vivo Arte Festival
Editor of the book "Mediation, Technology, Public Space: a critical panorama of mobile art" with Lucas Bambozzi and Rodrigo Minelli (Conrad, 2010). Marcus coordinates, with Priscila Arantes, the research group "Networld: ecologies of real time" at PUC-SP (where he is professor of Digital Media and Experimental Poetics). Among his recent projects are: "giuseppe, etc" (video essay launched at Mostra SESC de Artes, 2012); "fluxes" (audiovisual composition created with the group Telemusik, commissioned by Paço das Artes for the the "Listen, Dance" exhibition, 2010); "she, lonely, thinks of that" (live cinema presentation commissioned for the Circuito SESC de Artes, 2010) and "2346" (mapping of the Augusta Street developed with the group LAT-23 at Escola São Paulo, for the city anniversary).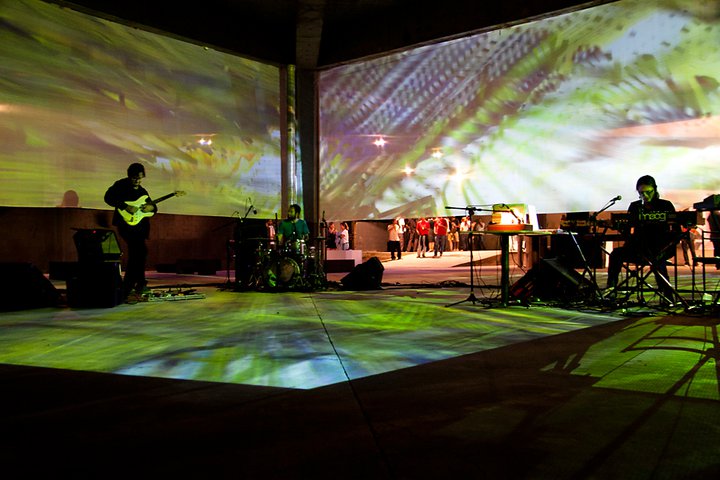 Lenara Verle – New Media artist, Researcher and lecturer at Unisinos University and PUC-RS University for Digital Communications, Game Development, and Expanded Cinema.
UNESCO-ASCHBERG resident artist at the Planetary Collegium (UK) and New Media Art resident artist at ZKM Center (DE).
Lenara participates in the award-winning group Sito Electronic Arts, a pioneer community of digital artists who have been developing collaborative Internet projects since 1994. Her work Gridcosm 1000-000 is winner of the VAD Net Art First Prize (Girona, Spain 2003) and the ZKM Media Art Award (Karlsruhe, Germany 2005).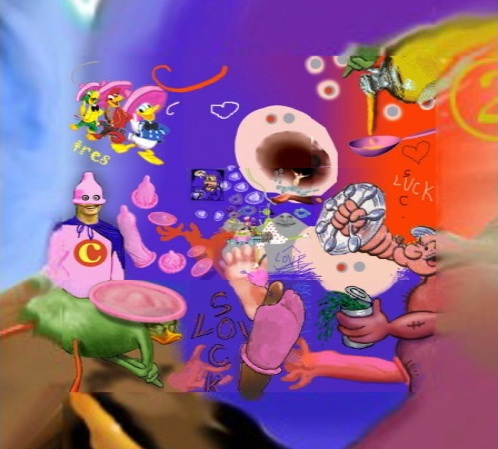 Gridcosm is a collaborative Internet art project by Sito Electronic Arts launched in 1997. Over 3,000 artists have contributed more than 30,000 images during its fifteen year existence. Gridcosm's basic structure is an expandable three by three image grid. Each section of the grid is created by a different artist and the images must be designed to blend together forming a seamless bigger picture.
This "blending" requirement brings up interesting challenges and possibilities for the artists. Each image is not a finished piece in itself, it must be consider or take advantage of its surroundings. These surroundings are other images already created or yet to be created by other artists. In the collective image creation process, a concept brought up by one artist inside an image can be further developed, ignored or ruined by the adjacent image added by another artist.
The Gridcsom 1000-000 animation shows the first 1000 "levels" of Gridcosm, and features a soundtrack as part of the "gridpoem", a stream of text that is created collaboratively together with the images.