Kunst Apotheke Salon Session 9
22.07.2010
20:00 - 23:00
Mindpirates
Schlesische Str. 38
10997, Berlin
www.mindpirates.org
Mindpirates, a Berlin-based group who create and show films, art and scenarios with the intention of injecting awareness and free thinking into the minds of the people and into the "public mind".
We are proud to announce the following presentations:
The Obsession of Language
Stephan Weitzel - artist - Berlin
In his drawings, sculptures and public interventions, Stephan uses language as signifier in his work titles to create tension between text and image or text and object. To him, language is the source of any mental construction. He also writes fiction and essays, and presents his texts - in German, English and French - through reading performances.
In Kunst Apotheke Salon, Stephan will read a selection of his work and present his visual work to reflect on his need of words for various purposes and in different cultural and linguistic contexts.
Can language work across those borders?
What about the permanent request for translation and contextualization?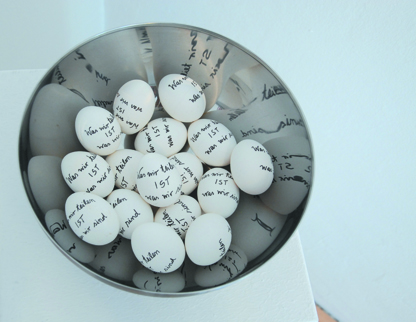 Born in Germany, Stephan has lived in Paris, London, Marseille, New York and Québec and worked as a language teacher, translator, radio producer, public speaker, and art director in film. He has also received various grants and exhibited his artwork in Cuba, Ireland, Austria, Germany and India. Currently working on a series of large-scale drawings of fictitious film posters on German history.
www.stephanweitzel.com/
Supposing the Medium
Mischa Twitchin – funder-member of Shunt Lounge/lecturer at Goldsmiths College and School of Speech and Drama – London
The spectre of "the present" haunts the discourse of performance, as though for both the performer "being in the moment" and for the audience "being there" defined the performance event as a temporal medium. If "performance's only life is in the present", as Peggy Phelan insists (whilst nonetheless discussing photographs), the film version of a performed work is supposed to be secondary, derivative, or simply "documentation". In a typical elision, following so-called "indexical" thinking about stills photography, it is as if the film substituted for the presence of an "original" audience, eliding the temporal structure of the film itself with what was enacted before the camera.
In Kunst Apotheke Salon, Mischa wants to reflect on what he has learnt from transposing a live performance into the showing of a film. In simply asking "why show a film rather than do the live performance?", he wants to consider how the techniques of image making in each visual medium makes possible the time particular to such reflection itself. Where a performance has not been made "for" the camera - although a film has been made "with" the material of the filmed performance.
How might one think of this relation between mediums, without supposing the priority of the one before the other?
What is it "of" a performance that becomes visible (and, indeed, thinkable) in a film, as framing a relation between word and image?
The work referred to in this presentation is a diptych called "The Children's Emperor and The Pianist" which can be viewed at: http://shunt.co.uk/mischa_twitchin/childrens.html. It will also be shown in the "Mart" exhibition at Stattbad Wedding, 21-28.07,www.mart.ie
Mischa Twitchin is a founder-member of the London-based performance collective, Shunt. Besides his own performance projects and work as a freelance lighting designer, he teaches at Goldsmiths College and at Central School of Speech and Drama, while also researching his PhD project at Queen Mary College, University of London.
shunt.co.uk/mischa_twitchin/index.html