Kunst Apotheke Salon Session 5 took place on 26.11.2009 with following programme:
WJ-SPOTS#1 - 15 Years of Artistic Creation on the Internet
Anne Roquigny – media arts curator/producer/– Paris
Anne has specialized during these last 14 years in the production and curating of hybrid digital projects linked to networks and to the Internet. Starting from 1995, her pioneering curatorial and directorial experience includes the Web Bar, an internet cum art gallery in Paris, CICV, the first French new media center, International Urban Multimedia Arts Festivals and La Gaité Lyrique, prototype of the Digital Arts Center in Paris for digital production and electronic music.
Anne is now developing the web performances projects WJS and WJ-SPOTS and coordinating the audio art project Locus Sonus.
In May 2009, Anne launched WJ-SPOTS#1 in Paris, a two-day opportunity to discover 44 outstanding figures of the French internet community and their reflections on 15 years of Internet history. The interviews are conducted inside the WJ-S multi-screen environment, transformed for the occasion into a space for thought and investigation. Online browsing of a selection of emblematic websites, chosen by the speakers, take place simultaneously on 3 big screens. Real time surfing is like a magnified and augmented thought presentation, offering multiple of points of view while the participants answer a series of 5 questions. The participants commented and analyzed, from an artistic perspective, how the Internet has been progressively taken over as a space of artistic creation, from its beginning until now.
In September 2009, Musiques et Cultures Digitales Magazine published a special bilingual edition on WJ-SPOTS #1 - 15 Years of Artistic Creation on the Internet. An instant success as it occupies almost every internet creative user's desktop. At the next Kunst Apotheke Salon, not only will Anne give us her own reflections on the internet history, she will also talk about how WJS come to be alive in the web community.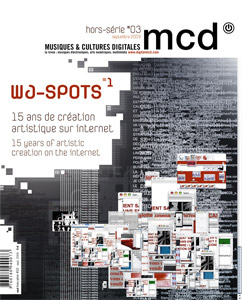 www.wj-s.org
www.wj-s.org/WJ-SPOTS-1-15-years-of-internet
www.roquigny.info
www.locusonus.org
Case Study Asociacija (Association), Assembly of Cultural NGOs in Ljubljana
Maks Soršak - Secretary in General of Modern Art Museum Ljubljana/Funder of Asociacija/former art director of Glej Theatre - Ljubljana
Being both a civil servant and cultural activist, Maks has stories from both sides. Not only will he give a short survey of the last 15 years contemporary art scene in Ljublajan and Slovenia, more importantly, he will advocate for the necessity of Asociacija. Asociacija was born out of bottom up Slovenian cultural movement in 2007, currently, leading cultural NGOs and artists to fight against severe funding cut in Slovenia. Presented as a reality check, Maks' insider view is not to be missed for anyone who wants to tap into the Balkan region.
www.scca-ljubljana.si
www.mg-lj.si
Kunst Apotheke Salon
I-Wei Li - Contexterin/Video and Multi-Media Artist/Artistic Director of SideBySide Studio - Berlin
Conceived and produced by I-Wei Li, Kunst Apotheke Salon has now become a creative hub for international cultural workers. Given this session will be the last Kunst Apotheke Salon for 2009, I-Wei will reflect and explore the in/visible values generated in this experiment. At the same time, she also seeks new approaches and partners to conduct this monthly event together.